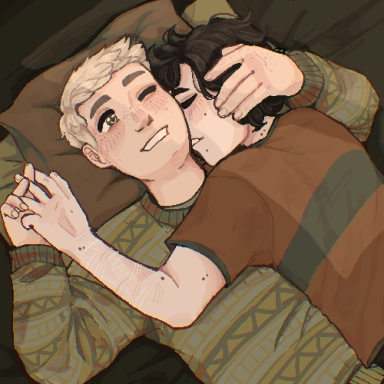 Roleplay Invitations

One on One Roleplays
Posting Speed

Speed of Light, Several Posts a Day, A Few Posts A Day, A Few Posts a Week, One Post a Week
My Usual Online Time

7 am to anywhere between 9 pm to 1 am. Honestly it's pretty random, but I'm on most hours of the day.
Writing Levels

Intermediate, Adept
Genders You Prefer Playing

Male, Female, Androgynous
Playing Style- Passive or Aggressive

Somewhat passive, I guess? I don't mind anyone else taking the lead but I still want to discuss major plot points.
Favorite Genres

romance, modern, drama, modern fantasy, s l i c e o f l i f e.
Genre You DON'T Like

Scifi, high fantasy
January 2040

​
- [whoever/whoever] FUN FAMILY CAMPING - January​
- [Hugo/Letha] Letha noticing some BAD SHIT - Feb​
- [Samuel/Roman] Letha tells the dads about the BAD SHIT - Feb​
- [Hugo/Letha] Letha confronts Hugo - Feb​
- [Samuel/Roman] Tells the daddos again calls social services and Hugo stays there for a bit.​
- [Emmie/Harper] Harper agreeing about cute boi with emmie - March​
- [Eden/???] Eden meets a friend GASP -April​
- [Stella/Harper] Harper seeing random cute boi at some point - June​
- [Samuel/Roman] Pervy soccer mums creeps on Roman - July​
- [Eden/???] Eden's new fren saves his butt - August​
- [Emmie/Harper] Harperoony talking to emmie about the gay shit TM - August​
- [Samuel/Roman] Roman having his ego shattered -September​
- [Matthew/Elissa] Elissa kind of realises she is PREGGO TELLS Mathew – September​
- [Samuel/Roman] Finding out uncle Hadley is DED - September​
- [Samuel/Roman] The funeral - Otcober​
- [Mathew/Elissa] Ellissa tells Gabi and Camerooon - Octber​
- [Samuel/Roman]Roman reflecting on DEATH cool - November​
- [Matthew/Elissa] Goodbye lil beb - December​
- [Eden/Harper] Pillowfort - December​
​
​
The twins: February 15 2027
​
Allison: December 24 2017
​
​
Dakota: most likely late 2031 or early 2032
​
​
Roman + London: September 2 1999
​
​
Bella: Probably May 1999
​
​
Romuel got together: March 2017
​
Moving to Melbs: January 2018
​
Romuel wedding: March 2024?
​
​
This really isn't fair,
was the one thought running through Samuels mind as he angrily stomped his way through the hallways,
not at all
. It was afternoon, around the time when most classes ended and after school activities began, which meant he was
supposed
to be on his way to the locker room with the rest of the team and not in the opposite direction.
They had all been laughing and talking throughout class, him, Ricky and Evan, and seeing as school had barely even properly started for the year yet it shouldn't have been that huge of a problem. But apparently laughing extra loud while some shy girl got an answer wrong earned you a detention anyways. Or maybe it was talking back to the teacher when he was asked to apologize.
Either way, Samuel hadn't even been laughing at her, he had been laughing at Evans stupid comment about the subject, which had been way dumber than the girls' answer. And now he was being punished. Not Ricky, not Evan, they would both be out on the field feeling they rays of sun on their skin while he would be indoors doing god knows what with the drama kids.
Not only was it unfair, but it was a weird punishment, couldn't he just get regular detention where he could be somewhat productive and do homework instead of having to endure an hour of helping out the drama club? He probably should have known better than to talk back to the teacher, who was known for coming up with other ways to give kids detention, though. But it was easier to be mad at others than himself.
Samuel continued passing the other students who were happily chatting by their lockers and making their way out of the building to get home until he stood in front of, what he was pretty sure was, the room the drama kids resided when they weren't in the auditorium preparing for a play. It was also the room his teacher had told him to got to. He knocked carefully on the door rather than just barging in, hoping that maybe nobody would hear him or even be there to open so he could use that as an excuse to go to soccer practice instead.
Last edited: